RUGLOCK IS
EASY TO USE
Just follow these steps… 
STEP 1: PREP
Open drop cloth in an area away from obstructions. Place rug upside down in the center of the drop cloth, leaving plenty of room along edges. Remove all lint and dirt from back of rug to ensure effective bond. A lint roller is recommended. Use painter's tape along the edges to protect the front and any fringe from overspray. If overspray occurs, remove with damp cloth immediately.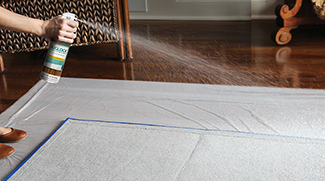 STEP 2: SPRAY
Shake can well. Gently snap off trigger safety tab. Hold can at knee height (approximately 18-20 inches away). Spray from left to right in a sweeping motion. Evenly work your way down the rug, letting product fall onto rug back like snow. Let RugLock dry completely indoors, for 8 – 12 hours. Click here to see spray pattern pictures for the amount we recommend.
STEP 3: LOCK
Remove tape from edge, and place rug as desired on clean surface. Apply pressure to lock the rug into place. If backing loses grip over time, simply wipe with a damp cloth, let dry, and the tack will return. Enjoy your locked rugs!
Note: Certain rugs may absorb more product and need a heavier application, due to the size, texture and porosity of the rug. RugLock is NOT approved for outdoor rug application, as its anti-slip properties decrease in wet conditions. Do NOT freeze. Store RugLock at room temperature.